PRESS-WHITE MAGAZINE.
.
Interview time: 2011.02. with SC.
.
Fuquan Junze is a Japanese interior, furniture and industrial designer based in Hong Kong. Before entering the design profession, he marked as a mechanical engineer, school coach, and administrative manager. In 2007, Fuquan established Oil Monkey limited. Despite never having taken formal design training, Fuquan has quickly built a reputation in the field. In 2008, he was a runner up in the Phoenix Contemporary Design Fair Competition. Fuquan Junze talked to us about his design concept and career.
Name: Fuquan Junze
Location: Hong Kong
Professions: Interior, furniture and industrial designer
Style: Sophisticated and minimalistic
.

Why you name the act/company/yourself Oil Monkey?
It is just a name, has no special meaning.
Who would you like to design for?
Myself.
You have a large range of architectures and furnitures, which project has given you the most satisfaction and whats the inspiration behind that?
It should be Curene. It is the first chair i designed and won my first design award.
What was the biggest obstacle during the design process?
Getting sick before submission.
Do you consider yourself as a Minimalistic artist?
Sometimes yes.
Please define Minimalism?
Take what you need and leave the rest.
Please describe your ideal home?
A little white house in the woods, and a small stream nearby.
What is next for you?
Retirement.
.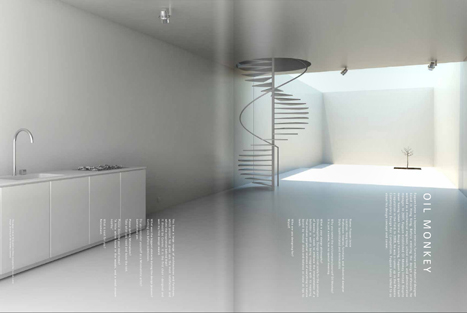 -
-
oil monkey limited © all rights reserved