PRESS-M.E. DESIGN MAGAZINE.
.
Another birthday related post today, and this time we'd like to draw your attention to Oil Monkey who'll be four this year.
Established in 2007, the Hong Kong design office is led by Fuquan Junze who - apparently and incredibly - has no formal training in design.
But who cares about formal education when the work is this good?
2011 has already been a productive year for Oil Monkey too.
New designs this year include the perfectly balanced 'Crucifixion' coffee table; the astoundingly elegant and minimal House W, a delicate featherweight fibreglass birdhouse called 'Niao' and 'Qiao Jing Bi Rui' - a chair and table set crafted from oak and copper plated stainless steel.
We love the refined minimalism of this stuff and give them big M.E. thumbs up for beautiful product photography too.
.
http://www.medesignmag.com/products/2818/oil-monkey-4th-anniversary/
.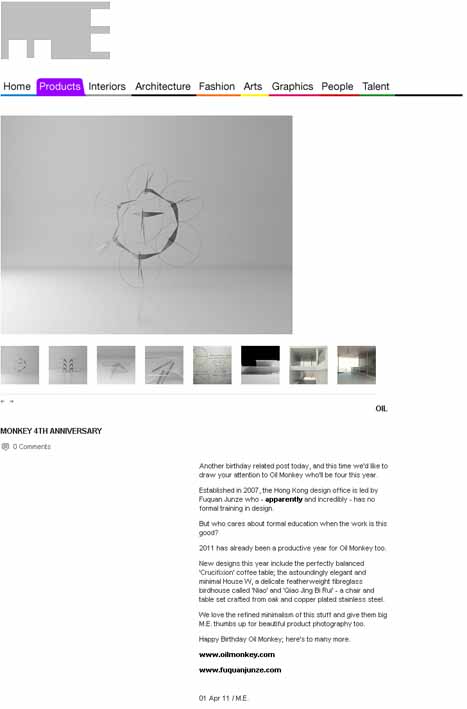 -
-
oil monkey limited © all rights reserved